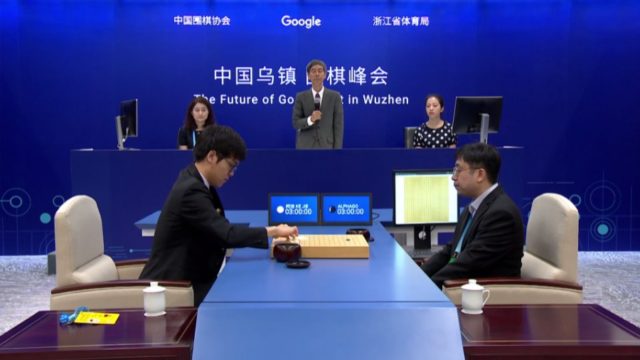 capabilities once again by defeating world's number one Go player Ke Jie.
At Google's Future of Go Summit held in Wuzhen, China, the AI was able to record a marginal victory, just by half a point, in a three-part game against China's 19-year-old Ke Jie. He is recognized as the "strongest human player," according to the commentator Michael Redmond.
It was observed during the game that Jie also sensed the approach used by AlphaGo which is also evident by the slight margin of the AI's victory. "Huge respect to Ke Jie for playing such a great game and pushing AlphaGo to its limits," said DeepMind's CEO Demis Hassabis during the post-game conference.
The score for AlphaGo vs Ke Jie is now 1-0 after 289 moves in the first match of the three-part series. The second Ke Jie vs AlphaGO match will be held on Thursday, May 25 (10:30 am, UTC+8), followed by the finale on Saturday, May 27.
There will be two other matches on Friday afternoon. One of them is Pair Go, where AlphaGO will help two other Chinese competitors as their teammate and another game Team Go where AlphaGo will face five other Chinese Go pros simultaneously.
Note: We'll update this story with the results of Game 2 and Game 3.
If you have something to add, drop your thoughts and feedback.
lphaGo, the artificial intelligence algorithm developed by Google DeepMind proved it's dominance to the world last year when it outperformed Korea's Lee Se-dol in five-part match series by 4-1. Now, AlphaGo has manifested its