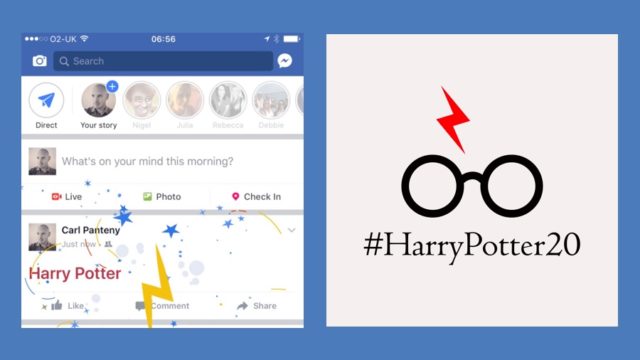 June 26th, 2017, marks the 20th anniversary of the first Harry Potter book. To celebrate the same, Facebook has activated a hidden Harry Potter spell feature on its website. All you need to is include certain words in your status to cast magical spells. Twitter is also
celebrating similarly.
6th June, Monday, marks the 20th anniversary of the Harry Potter book series, which was kicked off by Harry Potter and the Philosopher's Stone. I know it's making you pretty old and nostalgic. Having said that, let's tell you about a few hidden surprises that'll make this day even more special.
To celebrate this event, taking some inspiration from the fun-loving folks at Google, Facebook has introduced an Easter Egg that allows you to cast a spell right inside your device.
How To Cast Facebook's Hidden Harry Potter Spells?
To cast these Harry Potter spells in Facebook, all you need to do is write any of the words Harry Potter, Gryffindor, Ravenclaw, Slytherin, or Hufflepuff in a status update. Doing so will show you a familiar wand and an animation spell when tapped.
That's it. You don't need to perform some other tricks to activate these Harry Potter spells. After posting the status, the magic words will be highlighted in different colors. While Harry Potter and Gryffindor will show in regal red color, Slytherin, Ravenclaw, and Hufflepuff are shown in their respective house colors.
Twitter is also celebrating
Just like Facebook, Twitter is also celebrating the 20th anniversary of Harry Potter series in its own way. Simply use #HarryPotter20 and it'll show a special Harry Potter emoji.
Take a look:
So, are you busy celebrating Harry Potter's 20th anniversary? Don't forget to share your Harry Potter memories with us!