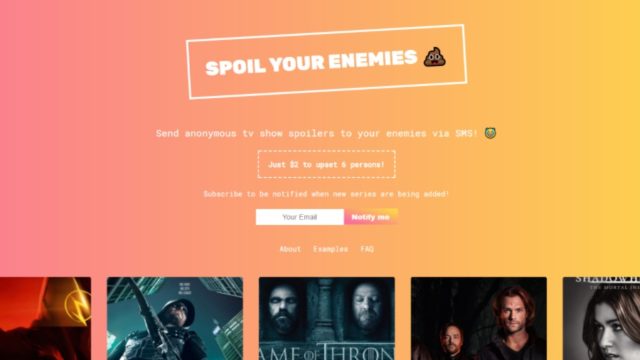 f you are one of those who ruin other people's TV shows by telling them spoilers, then you should stop doing that. Otherwise, someone else might end up doing what Enrique Benitez did.
Benitez has created a website named
Spoil Your Enemies
and it does what is says; it destroys the life of your enemies and even friends by sending them TV show spoilers.
What's more is the information is sent via SMS, so, if the other person is isolated from the internet to protect himself, he/she still not safe.
He says that his motivation behind creating such thing is his friends who constantly told him spoilers about his favorite TV shows. "They drove me nuts," he adds.
It took around two weeks for Benitez to build the SMS-based service. Also, the sender being anonymous makes the target totally unsuspecting of what's coming.
You can send SMS Spoilers to up to six enemy phone numbers; it doesn't matter if they live in other countries. But the service, however, charges $2 to send the SMS. You also get confirmation alerts if the text gets delivered successfully. The number of TV shows on the website is limited but it does include some popular ones.
People would have loved if the service was free but the developer won't be paying the SMS charges from his own pocket, would he? And I don't think $2 is a big deal if you're planning to take some serious revenge on those traitors who watched some other finale before you.