What is Bitcoin Cash?
Bitcoin Cash (BCC) is a hard fork (a permanent divergence in the blockchain) of Bitcoin blockchain ledger. Just like Bitcoin (BTC), Bitcoin Cash is a peer-to-peer, decentralized electronic cash for the internet. Compared to Bitcoin, the new fork is stressing on high speed
and volume of transaction. It aims to increase the block size to 8MB and remove SegWit2x proposal (explained in the next section).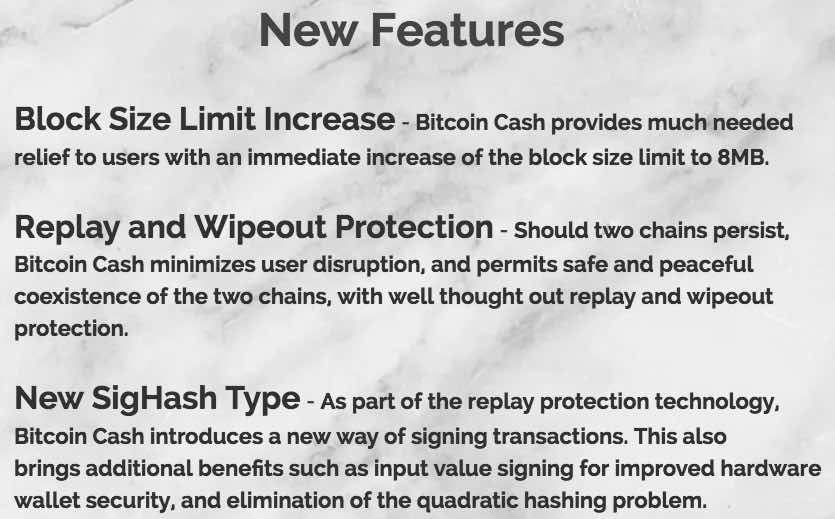 But, how is this "split" going to take place?
Starting from August 1,
12:20 UTC
, Beijing-based mining pool ViaBTC, which has about 5% of bitcoin's computing power, will give its miners an option to use a new client called Bitcoin ABC.
If the first block of Bitcoin Cash is mined using Bitcoin ABC and the miners continue to support this new option, it'll create a permanent divergence in the blockchain, giving the rise to Bitcoin Cash (BCC).
Note: Bitcoin ABC is an open source fork of Bitcoin Core. Designed to facilitate a hard fork (Bitcoin Cash, for instance), Bitcoin ABC stands for "Adjustable Blocksize Cap". Many of you might be already knowing that Bitcoin Core, which was published by Satoshi Nakamoto as Bitcoin, is a full client used by bitcoin nodes.
What is SegWit2x? How did it inspire Bitcoin split and Bitcoin Cash formation?
This question brings us to another question–Why is Bitcoin going to split?
Over the years, two different groups who control the majority of the power in Bitcoin world have been debating the blockchain structure. While the core developers have been willing to keep the size limited as a protection against the hacks, the miners have shown interest in increasing the size for faster performance.
Currently, Bitcoin can process up to 1MB transactions every 10 minutes, which is about 6 transactions per second. On the other hand, VISA has the capacity to process more than 1,600 transactions per second. Due to this 1MB limit, the transactions take too long to approve during the peak time, and the miners need to pay more average fee costs.
One of the key proposals, named SegWit2x, to increase Bitcoin capacity and performance got the most attention. Notably, this proposal wasn't put forward by Bitcoin Core developer team. It aims to bring code optimization Segrated Witness (SegWit) to change the way data is stored on the Bitcoin network. Another proposed change is increasing the block size of 2MB (2x). SegWit is likely to activate later on August 1 and increase in block size is expected to take place 3 months after its activation.
Now, the early supporters of SegWit2x are losing confidence in the block size increase and many are expecting that SegWit2x will fail to implement the block size increase. As a result, people have decided to create their own hard fork.
Calin Culianu, who's contributing to Bitcoin Cash, told
CoinDesk
:
"If the Segwit2x agreement fails to implement the 2x part, which is not entirely unreasonable, and only ends up being being basically SegWit without the 2x, many miners will likely defect to Bitcoin Cash."
What will happen after Bitcoin split? What about the bitcoins I own?
Now comes the most important part.
After the split, all Bitcoin holders will get an amount in Bitcoin Cash, which is equal to their Bitcoin assets. So, the final decision is yours; you can trade in either Bitcoin or Bitcoin cash.
However, to make sure that you've access to your Bitcoin Cash, please check that your exchange supports it. Another important step is to have the control of your private keys before split takes place. If you have the control of your keys, you'll have access to your cash. You can either move the keys to your hardware or mobile wallet.
In the long term, the support of the miners and developers matters the most. At the moment, they are willing to wait for a little to get an idea of the overall interest of other enthusiasts. So, the interest of the miners will decide if ViaBTC will be able to direct the mining activity towards Bitcoin Cash and help the Bitcoin split take place. Many people are also seeing Bitcoin Cash as a backup in case SegWit2x fails to implement the size increase agreement. Experts are currently advising to avoid making any Bitcoin transactions until the future of Bitcoin seems clear.